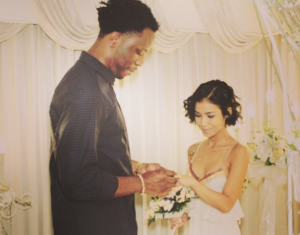 Did Jhene Aiko and Dot Da Genius get married?
They have been cagey for years about their relationship, but then DotDaGenius posted this picture! What are their card connections?
Jhene Aiko is born March 18th, 1988, making her a 7 of diamonds, King of Diamonds, Pisces Dragon.
DotDaGenius was born July 17th, 1986, making him a Queen of Clubs, Ace of Clubs, Cancer Tiger.
Tigers can get along with Dragons, but they might also find them very talkative and hard to dominate. Cancer Tigers are jumpy, Pisces Dragons can be a bit more mellow, but as two water signs they both feel deeply.
What are their connections?
Jhene Aiko is DotDaGenius' Neptune card. Her birth card, the 7 of diamonds, is DotDaGenius' Neptune card, with his Ace of Clubs PRC card. Her Birth card, 7 of diamonds, is also his Uranus card for the Queen of Clubs.
As a double diamond, she will be more adult, and more interested in her image than DotDaGenius. He's a double club. In some ways they will just NOT understand each other. He's more interested in words, in concepts, in learning, and in some ways he's a mystery to himself.
As a Queen of Clubs, DotDaGenius is fairly unmarriageable. The Queen of Clubs is impatient, known as the queen of mean. The Ace of Clubs is often waiting for the perfect relationship to come along, because of their cosmic soul twin, the 2 of hearts.
Jhene Aiko as a 7 of diamonds will have a fair amount of relationship karma, as her cosmic soul twin is the 9 of hearts. Sometimes it can seem to her partners that she will give to everyone else except them.
On the other hand, they are both semi-fixed cards, which makes them more stubborn than other cards. They can move mountains, together!
Jhene Aiko's PRC is the King of Diamonds, which means she can get what she wants, with her indomitable will. If she makes enemies, she will be invulnerable.
But… now DotDaGenius's instagram contains no trace of Jhene Aiko. And in Jhene Aiko's instagram, it looks like she's with Big Sean!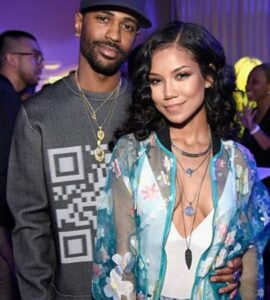 IS this true? If so, what are Big Sean's cards?
Big Sean was born March 25, 1988, which makes him an Aries Dragon, Jack of Clubs, 2 of Clubs!
As he and Jhene Aiko are both Dragons, they will instinctively know how the other one thinks, and are alike in a lot of ways.
They are far apart in the life spread. Are they dating? Or are they just creative collaborators?
As Jhene Aiko is the King of Diamonds, her first karma card is the 3 of clubs. This is sun to Big Sean's 2 of clubs. As she's his Sun card in the past life spread, he will look to her for direction and feel safe with her leadership. As the King of Diamonds, she is more than capable of leading the relationship.
Because Big Sean is the Jack of Clubs, he will not want to be tied down to labels or to relationships. If they are both doing a lot with their careers, showing their creative collaboration will be good for them, as long as they don't have to call it anything. He hasn't said anything about their potential relationship, and they don't have to make it official. Probably, because of the Jack of Clubs love of freedom, if they called it anything, he would run away as fast as possible.
Maybe Jhene Aiko is still single. What do you think?