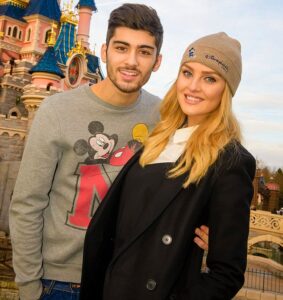 Gigi Hadid was born April 23, 1995, making her a Taurus Pig, Jack of clubs, 7 of spades.
Zayn Malik was born January 12, 1993, making him a Capricorn Monkey, and making him a 2 of spades, 10 of clubs.
Until 2015, Zayn Malik was with Perrie Edwards, 10 July 1993. She is a Cancer Rooster. 5 of diamonds 7 of clubs.
Zayn Malik shares a lovely past life mars connection with Perrie Edwards, between his 10 of clubs and her 7 of clubs. This is easier than having the connection in the life spread. Her second karma card is the 3 of clubs, which also makes Zayn a Neptune connection for her, her ideal man. She did not break up with him, he broke up with HER. She actually said that he cheated on her, and he probably did. The connections were mainly flowing one way, from her to him. And as a 7 of clubs, she is destined to have disappointments in her life in a mundane way, but to get spiritual rewards if she wants.
As for Zayn Malik, it's hard to be a 10 of clubs, because while you get famous from an early age, you also make your career and fame the most important thing. It's a very heady card. So is the 2 of Spades, because it has the King of Clubs as a second karma card. That means that Zayn is very smart. As a 2 of spades, Zayn craves connection and working partnerships, and DOING things with other people. So it's a hard combination to be.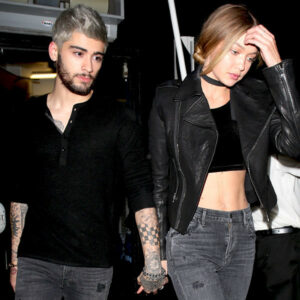 As a Jack of Clubs, Gigi Hadid is Sun to Zayn Malik in the past life spread. That means that he will look to her, and feel good being around her. She will feel supported by him. As the 7 of spades, she is his past life Saturn card, showing him how he can be better in his life. She may not be aware of it, but she is here to be his teacher. The Jack of clubs, like the 2 of spades, is a very marriageable card. The Jack of clubs loves to argue, and the 7 of spades shows a strong personality that again will have disappointments in life, perhaps relating to work or lifestyle.
They are both spades and clubs, which means they will instinctively understand each other's need to work hard. They'll also understand each other's words and concepts, and know how important words are to each other. But as spades, they will still be connected to the here and now, and want to get things done in the world, not just talk.
As for Zayn Malik, is he really in love with Gigi Hadid? Definitely. She is his sun card. But as a 10 of clubs, it will be hard for him to be with his Sun card. It will be hard for him to compromise for her career. He will want more give and take in the relationship. If he can learn to take a backseat to her, then this relationship can work out.
Here's a video with Zayn Malik and Gigi Hadid. A paradise, and a war zone (if he can't take a hint on how to improve himself)