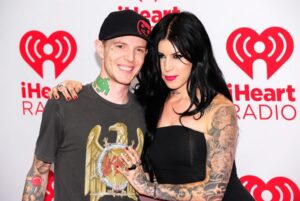 Deadmau5 (aka Joel Zimmerman) is an electronic house music artist famous for his music and wearing a mouse mask. He was born January 5, 1981, making him a Capricorn Monkey, 9 of spades, 4 of clubs. His first karma cards are the King of hearts and the 5 of clubs. His second karma cards are the 6 of spades and 6 of hearts. Because he's a Capricorn Monkey, he's a kind of nervous person, running around doing a million things at once. He's always in motion, and he has a hard time slowing down. This backfires when he overextends himself. Being born a spade means you must always watch out for your health, especially the 9 of spades. As a 9 he can have a Piscean feeling, somewhat melancholy, but very creative. As his second karma cards are the 6 of spades and the 6 of hearts, he knows about love karma and work karma, which means he will work at being a good lover and at taking care of himself. His 4 of clubs generally manifests as someone who loves to learn, and work to create a stable base. The first karma card for the 4 of clubs is the 5 of clubs, meaning that he craves movement and despises sameness, even though he knows he has to settle down to get his work done. So he works by touring in lots of different countries, and this suits him very well.
Kat Von D (Katherine von Drachenberg) is a tattoo artist famous for her show, LA Ink. She is a Mexican American, born March 8, 1982, making her a Pisces Dog, 2 of spades, King of Spades. Her first karma card is the 6 of spades, her second karma card is the King of clubs.  Her PRC, the King of Spades, is a fixed card, so it has no karma cards. Pisces Dogs are sweet people. The fact that she's a spade means that she will be very work and lifestyle focused. She's a two of spades, which can make for a kind of dreamy artistic person, not totally connected to reality. This also has to do with her being in the Neptune line. She's ultra-Pisces. And the fact that she's a 2 of spades means she is always looking for the perfect partner. She has dated a couple of high profile people, including Jesse James, and a bassist for Motley Crue. Probably the most interesting thing about Kat Von D is that she has a PRC of the King of Spades. This tends to be the card that we exaggerate. You won't see many people with the King of Spades as their birth card, as it's only one day of the year, January 1st. King of Spades can be extremely powerful. They are the most powerful card in the deck. They tend to feel as if they made the law. You can see Kat von D doesn't care about societal norms, as she has tattoos all over her body. She also doesn't have a traditional career. She has made her own way and gotten a lot of notoriety and success at a relatively young age.
What are their connections?
Deadmau5 proposed to Kat Von D over twitter, and she accepted. This is kind of odd but I suppose Pisces are okay with odd.
Just by looking at their karma cards, we can see that they share the 6 of spades karma card. Kat Von D might act out the challenging aspects of the 6 of spades, but Deadma5 will act out the more positive aspects of this card. This can make them appreciate these traits in each other. They are both hard-working people, dedicated to their careers, and they will respect this about each other.
The fact that DeadMau5 is the 9 of spades and Kat von D's first karma card is the 6 of spades means they have a nice past life mars connection, which is excellent for sex. His birth card, the 9 of spades is Uranus to her birth card, the 2 of spades, in the past life spread, making for a relationship where they are friends first, no matter what else is going on. Her King of Clubs karma card is pluto to his 5 of clubs karma card, which means that in some ways she's teaching him how to be a better person. Pluto connections are like Saturn connections taken to a higher octave. When you're with your pluto card, they challenge you on a whole other level. It is probably challenging for Deadmau5 to be with Kat von D, but on some level, he knows that he needs this to continue his growth.
[raw]

[/raw]