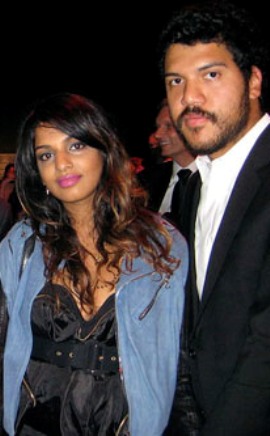 From 2006 to 2008, M.I.A. (Mathangi "Maya" Arulpragasam,) lived in the Bedford-Stuyvesant neighborhood of Brooklyn, New York, where she met Benjamin Zachary Bronfman (aka Benjamin Brewer), an environmentalist, founder of Green Owl, musician and member of the Bronfman family.[239][240] They became engaged and she gave birth to their son, Ikhyd Edgar Arular Bronfman, on 13 February 2009, just three days after performing at the Grammy Awards.[241][242] She owns a home in Brentwood and divides her time between Los Angeles and her mother's home in London. In February 2012, it was announced that she and Bronfman had split.[243]
What was M.I.A.'s and Benjamin Bronfman's relationship like?
Let's see.
MIA was born July 18, 1975, making her a Cancer Cat.
and Benjamin Bronfman born August 6, 1982, making him a Leo Dog.
Cats and Dogs can get along well together.
Leos and Cancers, not as much. Cancers can be very watery and emotional. Leos tend to be sunny and impenetrable. What you get is a lot of steam. Leo Dogs also tend to be into themselves, a little too attractive for their own good. If I had to take a guess, I'd say that he was not the one making time for the relationship. Generally Cancers are good at keeping the home fires burning.
What do their destiny cards say about their compatibility?
M.I.A.'s destiny cards are the Jack of Clubs and Queen of Spades. This makes her a force to be reckoned with. She is persistent about self-mastery, as shown by her many chart-topping songs. She has overcome intense poverty in Sri Lanka, the Sri Lankan Civil War, death threats and more, all for being outspoken about the need for revolution. She is an icon. The only person ever to refuse to be put on People Magazine's 100 most beautiful people list. Her reason? "Mother Teresa never made it on." POWER! The Queen of Spades is the second most powerful card in the deck, and she is all about work and learning, and giving back to the world. MIA is also a philanthropist, like a true Queen of Spades, and does her part to support various revolutionary ideas and people, like women in Saudi Arabia and their right to drive. She highlighted this in one of her more recent videos, Bad Girls.
Benjamin's Destiny card is the Seven of Diamonds, the millionaire's card, and he is not just a millionaire, but a billionaire, as his father was the CEO of Warner Music Group.
Because he's a Leo, he only gets one card. His card is part of a special group of 12 cards called the Fixed and Semi-Fixed cards. Every year he swoops back and forth from the Venus Venus position in the life spread, to the Saturn Saturn position, changing places with the 9 of hearts. This means his life can have a lot of ups and downs, emotionally.
When we look at their destiny cards in the life spread, we don't see a lot of connections. But when we look at MIA's karma cards, a pattern begins to emerge.
Her two first Karma cards are the 10 of diamonds and the Jack of diamonds. Her second Karma cards are the 10 of hearts and the 8 of diamonds.
This means she's sun to Benjamin Bronfman, and he is her moon card. He was probably tired of always supporting her dreams, and wanted to go and find some dreams of his own. Because she has the Jack and Ten of diamonds as well, she's mars to him and jupiter to him the past life spread. This means that they would have had fantastic physical connections, and also that he would love to give to her. All of these connections would have made a lovely relationship if there just had been a bit more of a two-way moon connection, so that he could also feel in charge of some things.
Alas, this is why their relationship did not work out.