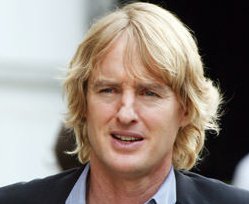 Owen Wilson was born on November 18, 1968, which makes him a Sagittarius Monkey.
I've got a motto which has served me well in times past. Do not get involved with Sagittarius Monkeys if you like stable, committed relationships. They do not do monogamy. They are loyal to their causes, not to any one person. I know a Sagittarius Monkey who has been married three times, and has had many many girlfriends in between, even while being married. Well, so far, we still don't know why Owen Wilson is depressed. Lots of men enjoy multiple relationships without even a twinge of remorse. Why isn't rich, successful, and desired Owen Wilson happy?
What about the destiny cards? What do THEY say about Owen Wilson's unhappiness? Owen Wilson's destiny cards? 2 of clubs and 4 of diamonds. These are two pretty hard cards to be.
Why? Because the 2 of clubs has a first karma card of the Ace of spades.
The ace of spades means that you've got a fear of death.
2s are usually so fearful that it makes life very hard for them.
They are afraid to be alone, or else they react by pushing everyone away because they are afraid of betrayal. They make some of the worst relationship choices because of their fears.
For example, on January 10, 2011, Wilson's representative announced that Wilson and his girlfriend Jade Duell were expecting a baby. Four days later, on January 14, it was confirmed that Duell had given birth in Hawaii to a baby boy, Robert Ford Wilson. Wilson and Duell had ended their relationship by June 2011.
In October 2013, Wilson's representative confirmed that he was expecting a child with personal trainer Caroline Lindqvist, though they were not in a relationship and Lindqvist was in the process of divorcing her husband. Lindqvist gave birth to son, Finn Lindqvist Wilson on January 30, 2014. Lindqvist calls the whole thing "Two friends who are having a baby together, that's it"
These are some pretty bad relationship choices, to get involved with someone currently married. And it sounds like the relationship with Jade Duell went south pretty fast after the birth of their son. Meanwhile Owen Wilson has been seen chatting up any number of women, even though he just got another woman pregnant earlier this year.
The four of diamonds has a Saturn card of the Queen of hearts. That means when they look for love it will go hard for them. They can be great money organizers and are very responsible about money, but when they choose relationships they can choose badly, and take it badly when it doesn't work out.
Even though Owen Wilson has been involved in many successful and funny movies, and has a net worth of $30 Million, he attempted suicide in 2007.
What could help Owen Wilson feel better?
To start to know and accept himself more, to face his fears of death, and stop doing drugs to try to drown out the pain.