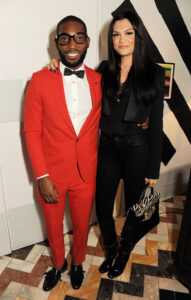 Is Jessie J Gay? Is Tinie Tempah her beard? what is really going on here? Do any connections exist between them?
Jessie J was born March 27th, 1988. Tinie Tempah was born November 7th, 1988.
This makes her an Aries Dragon, and this makes him a Scorpio Dragon. Two firey, passionate people!
Jessie J is the 9 of clubs. Tinie Tempah is the King of Clubs.
This gives them a nice past life Jupiter connection with their birth cards.
But where we see the real connection is between their planetary ruling cards.
Jessie J's PRC is the King of Hearts. Tinie Tempah's PRCs are the 4 of diamonds and the Queen of Hearts. This makes him her moon card in the spiritual spread.
Because they are so far apart in the life spread, it would be initially difficult to see what would hold them together, but a moon connection is very strong, and that combined with their past life Jupiter connection will allow them to grow together.
The relationship between the Queen of hearts and the King of hearts is a beautiful one, as long as the Queen lets the King lead. It won't work any other way. The moon card must follow the sun card. If Tinie Tempah is a dominant personality, this will not work out well for him, but if he allows Jessie J. to take the lead in many things, it will work out.
What complicates matters is that Tinie Tempah is a King as well. It's not typical for a Scorpio to act out his pluto card until later on in life. So if he acts like the Queen, it may feel weird for him. He might be more comfortable acting like the 4 of diamonds. The 4 of diamonds doesn't have any major connections with Jessie's cards.
The good thing about Tinie Tempah being a King of Clubs is that this is the least dominant king. They are the MOST capable of putting their egos in the backseat.
As you can see, Jessie J embraces her masculine and dominant side as the King of hearts.
[raw]

[/raw]