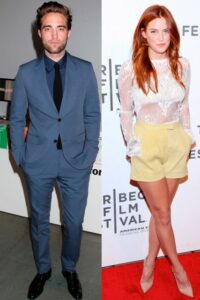 According to Perez Hilton, Robert Pattinson's got a new lady, Riley Keough, but he's still not over Kristen Stewart!
What is going on?
Robert Pattinson is a 6 of diamonds and 10 of hearts, Taurus Tiger. This makes him steadier than other tigers, more mellow and sensual. As a six of diamonds, he doesn't like to show his emotions, and he's competitive. As the 10 of hearts, he loves to party. He might party too much.
Riley Keough is born on May 29th, 1989, which makes her a Taurus Snake, a 3 of clubs and a 9 of hearts. As the 3 of clubs, she's the panic attack card. This is also known as the writer's card. This means she's a bit wild, but comfortable around people who have lots of money and power, due to her karma card, the King of diamonds. The 9 of hearts means that she will have to learn to let go in love. She will have many disappointments, and it is difficult for her to have her personal desires thwarted.
What are their connections?
Things are not looking good for Rob because his first connection with Riley Keough is a neptune connection. His PRC, the 10 of hearts, has the 3 of clubs, Riley's birth card, as its neptune card.
They do have a moon connection in the past life spread, with Riley's 9 of hearts to Rob's 10 of hearts. This can mean that they are more compatible with each other than Kristen Stewart and Rob were.
However, Kristen Stewart is ALSO Rob's neptune card. And her PRC, the 3 of spades, is Rob's pluto card. The pluto card relationships can be extremely long lasting. Pluto connections are like Saturn connections taken to a higher octave. This means that Kristen Stewart is superior to Robert Pattinson, and can show him a way to be better in his career.
Kristen Stewart's 3 of spades is Rob's cosmic reward card, while Riley Keough's birth card, the 3 of clubs, is his cosmic lesson card.
Rob will have to pass through the lessons represented by the 3 of clubs to have the reward of the 3 of spades. Until he is mature enough to encorporate those lessons however, he cannot appreciate the 3 of spades side that Kristen Stewart represents. She will seem like a burden to him until he understands the lessons of the 3 of clubs.
Suffice to say, even with the moon connection, it does NOT look good for Riley Keough. As of the 9 of hearts, she will have to learn to let Rob go and find someone else who can be more supportive of her.
When a neptune connection is the first connection between two people, it can make one person put the other on a pedestal and worship them almost too adoringly. It can be lonely to be on a pedestal, because your partner never sees you as you truly are.
Robert Pattinson should try to drop both of these Neptune relationships and find someone who is moon to him, like the 8 of clubs person, or a nice 4 of spades person.