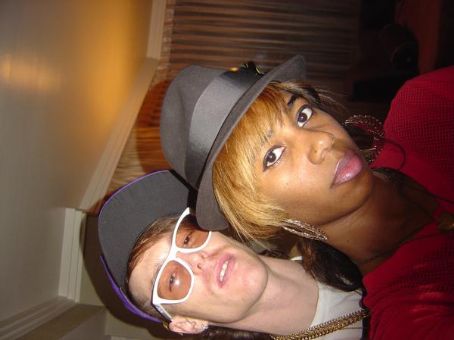 Santi "Santigold" White is a famous singer and recording artist signed to Roc Nation, Jay Z's label. She dropped some big albums and collaborated with everyone from Karen O to M.I.A.. Santigold was born on September 25th, 1976, making her a Libra Dragon, 10 of hearts, Eight of Spades.
She's a true powerhouse, loving and good time person. She loves to have parties around her. The 10 of hearts can almost have a too active social life. As the eight of spades however, she'll also keep her mind on her work. Being an eight and a ten, she will have to be careful not to overpower the people close to her. Raw power is not the most cuddly of attributes for a relationship. She recently had a son named Radek with Trevor Andrew, her husband.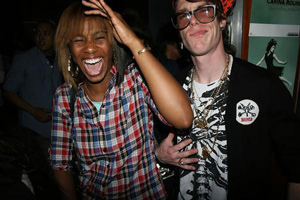 Trevor "Trouble" Andrew was born on August 31, 1979, making him a Virgo Goat, Eight of hearts, six of clubs. As the eight of hearts, he will love to make Santigold feel special. And he will succeed at this. As a six of clubs, he will have a competitive spirit, as shown in his chosen career as a snowboarder. For a goat, this is a pretty good deal. He can have fun all day, and come home and be daddy to Radek, their son.
From a western astrology perspective, there's not a lot going on. Dragons get along with most people, through sheer charm and pre-eminence. The Dragon simply takes over and demands all of the attention. The Virgo Goat is content to sit on the sidelines and watch. They require a lot of security to feel comfortable, otherwise they complain and nitpick. Vicious circle time. Since Santigold is such a successful recording artist, Trouble Andrew must feel pretty secure, which will help keep their relationship on an even keel.
How are they connected in the Destiny Card system?
Santigold as the 10 of hearts and eight of spades is far away from Trouble Andrew in the life spread.
However, if we look closer, we see how they are together.
Her planetary ruling card, the eight of spades, is the karma card for his planetary ruling card, the six of clubs. This means she will see him as a blessing, and he will see her as a challenge. Santigold will remind him of the workaholic and power hungry tendencies in himself, and he doesn't like to look at that. Trouble Andrew will remind her of all of her favorite spiritual qualities, her competitiveness and her peace deep inside. This can be a challenging relationship for Trevor Andrew if he goes deep into his nitpicking tendencies. If Santigold goes out on tour it can be easier for him to see her best side.
On top of this, Santigold and Trouble Andrew have a nice past life venus connection between his birth card, the eight of hearts, and her birth card, the ten of hearts. Trouble Andrew will love Santigold, and this an excellent connection for a long term relationship.
[raw]

[/raw]