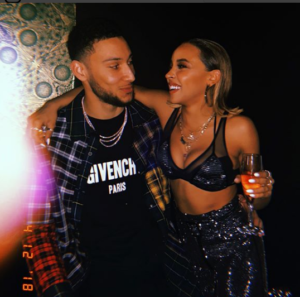 Tinashe is an incredible singer, dancer, performer and actress. She had many gorgeous mix tapes before getting into her big time music career. Her second Album, Joyride, came out earlier this year. She was born on February 6th, 1993, making her an Aquarius Rooster, 6 of spades and Ace of clubs. PRC.
Her boyfriend is Ben Simmons, Australian professional basketball player for the Philadelphia 76ers. Ben Simmons was born July 20, 1996. This makes him a Cancer Rat, 10 of clubs and Queen of Hearts PRC
This is Tinashe's first real relationship in 5 years. What is it like for her?
Right away, we can see a nice venus connection between the 6 of spades and the 10 of clubs in the life spread. This creates love from Tinashe to Ben Simmons. Next, she is moon to Ben Simmons, with his planetary ruling card being the Queen of hearts, and her birth card, the 6 of spades, sitting right behind it. This means she will see him as the leader in the relationship, and enjoy supporting him.
On top of this, Ben Simmons has connections with Tinashe as well. Her planetary ruling card, the Ace of clubs, is his Jupiter card. That means that prosperity will flow in their relationship.
Often 10 of clubs has a hard time in relationships because their work always comes first. But with the Queen of Hearts as his planetary ruling card, he will be more interested in building and sustaining a relationship than other 10 of clubs.
Tinashe has a more fated life than she knows, as a 6 of spades, and can get into ruts. But her Ace of Clubs keeps her creating, learning, changing and trying to find who she really is through her music.
Aces and Tens are quite similar, as they are both 1s, and can both be self obsessed. But because they both love working, they will respect the other's need to work.
Aquarius Rooster and Cancer Rat aren't the best combination, but the destiny card connections can make up for that. All in all, a loving match! Wishing them all happiness!

So many good videos- but this one is super fun.