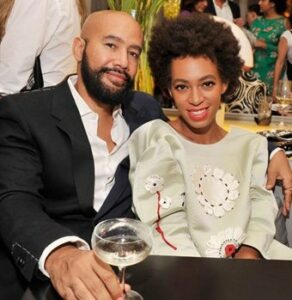 Congratulations to Solange Knowles and Alan Ferguson on their recent marriage!
Solange Knowles is a singer and song-writer who has been gaining fame from her recent album. Solange was born June 24th, 1986, making her a Cancer Tiger, 6 of clubs, and eight of hearts. This makes her a very powerful combination of charismatic and focused on her goals. As a six, she doesn't like to show her hand, and keeps her cool in most situations. As an eight of hearts, she knows exactly how to charm people and get attention.
Alan Ferguson, her longtime boyfriend and a filmmaker, was born August 5, 1963, making him a Leo Cat. His card is the 8 of diamonds. Because he's a Leo, he only gets one card. As the 8 of diamonds, he is the Sun Card, allowing him to feel like the world revolves around him. But, significantly, because he's a Leo cat, he's not going to be as boisterous as other eight of diamonds. He's going to go out there and shine, but discreetly. As a filmmaker, he makes movies but allows the actors to take the spotlight, while he gets the control. Eight of diamonds are also known to be big spenders, but to be able to manage money well for their family estates.
Leo Cats are refined individuals-and as Suzanne White says, he is so nimble and quickwitted that to know him is to wonder where he went!
What powerhouses! They are both forces to be reckoned with.
What are their connections?
Their first connection is a Jupiter connection from Solange's birth card, the 6 of clubs, to Alan's birth card, the 8 of diamonds. This is a wonderful connection for marriage. Marriages need money and the Jupiter connection will help provide this.
Their second connection is a Saturn connection from Solange's PRC, the 8 of hearts, to Alan's 8 of diamonds. This means that Alan will be her teacher, and she will learn a lot from him. As a cat, he avoids conflict, so he will probably be gentle in his critique of her.
If she is open to seeing him as a teacher, representing things she wants to achieve in this world, perhaps she can finally step out from behind the shadow of her more famous sister. If she is not open to seeing him as a teacher, it's more likely that they will fight and Solange will be the one who wants to walk out. As a Tiger, this is easy for her to do. But that would be a mistake. Our Saturn card can help us graduate to the next level of our business life. And when they come into our lives, we need to pay attention to what they have to say. Take their remarks not as a damning critique, but as a subtle suggestion of how we could improve our lot in life.
[raw] [/raw]