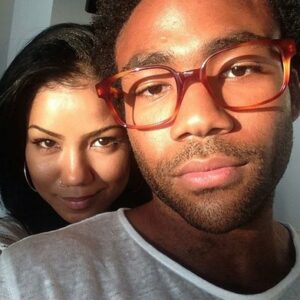 Donald Glover, a rapper and actor known as Childish Gambino, was born on September 25th 1983. This makes him a Libra Pig. His destiny cards are the Queen of Hearts and the Eight of Diamonds.
Jhené Aiko, a singer, was born on March 16th, 1988. This makes her a Pisces Dragon. Her destiny cards are the Seven of Diamonds and the King of Diamonds.
Donald Glover has denied he's dating Jhene Aiko, and yet…. they hang out a lot. So let's say, for the sake of argument, that they ARE dating.
Their first connection in their destiny cards is between Jhene's birth card, the 7 of diamonds, and Donald Glover's planetary ruling card, the eight of diamonds. Jhene Aiko is Donald's moon card. This means that she's behind him in the spiritual spread. They have been together before. And he will feel safe and loved with her. She will want to support him and will look to him for leadership.
This is a beautiful connection for marriage.
Jhene's other card, the King of diamonds, is Saturn in the past life spread to Donald's eight of diamonds PRC. That means that she will see his flaws and gently help him be better.
If Donald is open to being better at music, this is a wonderful relationship that he can grow in.
Because his birth card is a heart and she's a double diamond, they may have trouble connecting on an emotional level.
The fact that she's a pisces and he's a libra would normally be a cause for concern, but because Donald Glover is a Queen of hearts, he's one of the most piscean cards in the whole deck, because of his placement in the neptune line and in the neptune row. He's full of feelings and intuition about things. He's easily hurt, he feels things deeply, like a Pisces. This would help him understand Jhene as a Pisces also. He has said in interviews that he admires how she is dedicated to writing songs and making music and that's it.
[raw]

[/raw]

[raw]

[/raw]
At the end of this freestyle, Donald Glover talks about, "are you dating Jhene?" and he says, "it's deeper than that."
I'll bet it IS deeper than that.