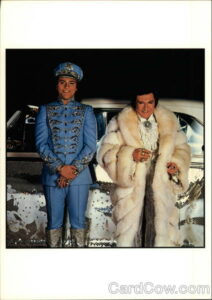 Liberace was born May 16, 1919. This makes him a Taurus Goat, 3 of diamonds, 7 of hearts.
Scott Thorson was born January 23rd, 1959, making him an Aquarius Pig. 4 of diamonds and 10 of clubs.
Goats and Pigs get along very well. Pigs love sensuality, luxury, culture, and Goats love the same. Pigs love to eat, and Goats love the artistic life. It's a wonderful match from the Chinese Astrology perspective.
Taurus gets along with Aquarius as well. Aquarians can be cool, and not too connected to the earth, but the sensuality of Taurus brings them back to touch reality.
Liberace was known for charming audiences all over the USA, especially women. He brought classical music to the masses, in the disguise of entertainment and show tunes. Unfortunately, Liberace was a 3 of diamonds, which is known to have one of the hardest life paths in the deck. They are very rarely happy, unless they can find a spritual side to explain all of their pain. Their first karma card is the 6 of hearts, which means they are learning how to be responsible in love. The 7 of hearts, Liberace's planetary ruling card, is often lucky with money, as they have the 7 of diamonds as their mercury card. For example, Bill Gates is a billionaire, and he's a 7 of hearts. Taurus Goats unfortunately can also be very abusive, and Liberace did abuse Scott Thorson, his lover.
Scott Thorson is a 4 of diamonds. Their lives are usually marked by struggle. They can be lazy and not inclined to work unless they have to, but it is only through work, not trickery, that they can succeed in their lives. Scott Thorson has had a difficult life, with a lot of struggle, because he has not learned this lesson. He was given a gift of $100,000 for giving advice in the film project, "Behind the candelabra" and he blew through it in about 2 months.
Thorson was only 17 in 1977, fresh out of a foster home, when he met Liberace and became his lover. Liberace decided to adopt him, and Thorson enjoyed a luxurious life at Liberace's mansion. Liberace did not help him choose a career or nurture him to be his own person, but rather, he encouraged Thorson to be a hanger-on, a groupie, to be part of his act, and to do whatever he told him to. Liberace kicked Thorson out in 1982, and though he died shortly afterwards in 1987, they reconciled before he died of AIDS-related complications.
What were their destiny card connections?
The first one is in the past life spread, with Scott Thorsons' card, the 4 of diamonds, being sun to Liberace's birth card, the 3 of diamonds.
This means that when they met, Liberace instinctively wanted to love, support, and protect Scott Thorson. Unfortunately, Scott Thorson was not in a position to take the Sun role in the relationship, as he was 40 years younger than Liberace.
Their second connection is between Scott Thorson's PRC, the 10 of clubs, and Liberace's birth card, the 3 of diamonds. It's a Pluto connection. The Pluto connection is like Saturn taken to a higher octave. Pluto relationships can be longer lasting than other relationships. Even though they only stayed together 5 years, this was the longest relationship for Scott Thorson.
Their third connection is between Scott Thorson's PRC, the 10 of Clubs, and Liberace's PRC, the 7 of hearts. This is the Cosmic Lesson card for Scott Thorson. He should have taken his time with Liberace as a lesson, and learned how to work harder, and do better in his life. Unfortunately he never found his path and has lived a dissolute existence since his relationship with Liberace ended.
[raw]

[/raw]