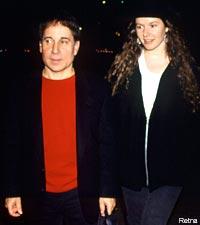 Paul Simon was born on October 13th, 1941. This makes him a Libra Snake. Edie Brickell was born March 10th, 1966, which makes her a Pisces Horse. Not just any pisces horse though. A Pisces FIRE HORSE! WAHOO!
Snakes and Horses can get along, it's not the best match, but it can happen.
Paul Simon has had three wives, but with his last wife, Edie Brickell, he seems to have made it last.
Paul Simon's destiny cards are the 9 of clubs and the 2 of hearts.
Edie Brickell's destiny cards are the King of Diamonds and the 4 of Spades.
What are their destiny card connections?
As the 9 of clubs, Paul Simon can be very sexy, due to his first karma card of the Queen of Hearts. With a 2 of hearts ruler, he can be even sexier. The 2 of hearts is the perfect lover card. It doesn't necessarily mean the perfect spouse or partner, but it means the person will enjoy the courtship, the dance, and the first flush of love with you.
Edie Brickell as the King of Diamonds tends to get what she wants. 4 of Spades makes her a hard worker. As a Pisces Horse though, she will be a calmer, gentler King of Diamonds. Pisces can be very delicate and artistic.
Here is the first time she saw Paul Simon, when she played on Saturday Night Live in 1988. He made her forget the words to her own song that she'd played hundreds of times. His two of hearts magnetism was working on her!
Their connections include a beautiful Venus connection in the life spread, from his 2 of hearts to her King of Diamonds card.
As it's in the life spread, it also reproduces itself in the past life spread, between his first karma card, the Ace of clubs, and her first karma card, the 3 of clubs.
The 3 of clubs karma card also gives her a Uranus connection to his birth card, the 9 of clubs. This allows her to give him his freedom, and treat him as a friend.
Finally, we see they have a sun-moon connection, the best connection for marriage, with her PRC, the 4 of spades and his 2nd karma card, the 6 of diamonds. She is his sun card. No wonder she got the restless 9 of clubs and 2 of hearts to settle down!